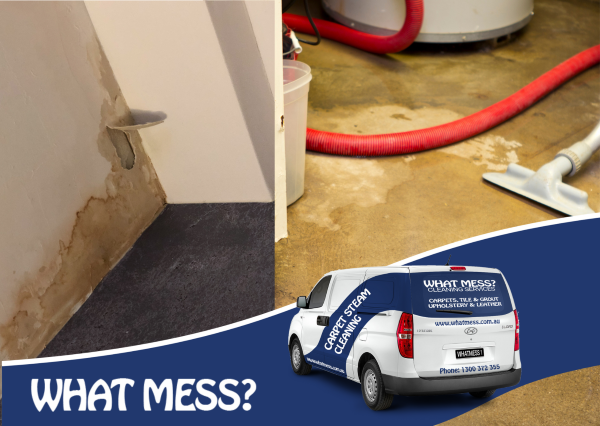 Water Damage – Can arise from many different causes in the home or work place
Some of the common causes are:
Rain/Storm Damage

Burst Pipe

Ruptured Flexi Hose under sinks and toilets

Flood

Sewage malfunction
At What Mess? we not only clean, but also restore Water Damage to carpet requires urgent attention for your Health & Safety & for the protection of your floor coverings & subfloors.
Our Process:
Inspection – A technician will inspect the area & determine.

The category of the water

Type of underlay & sub floor

Is it restorable?
Extraction:
Using our professional equipment & training we can start to restoration process by removing most of the water in your carpet & underlay. We do this more efficiently & effectively than your home wet vac saving hours of labour.
Restoration:
Using our purpose-built fans, we can quickly dry the remaining moisture from your carpet. We use a precise moisture metre to detect any areas that can't be detected by human touch. If your underlay is restorable, it too will be assessed for moisture prior to the final clean.
Remediation:
The removal or remediation of mould should never be overlooked. Mould is usually discovered after a "what's that smell" moment or moving furniture only to find a growth on the wall, furniture or under the carpet or backing.

Again, our first step inspect & determine what is affected and does it require removal or remediation.

Mould remediation usually includes chemical application & cleaning to kill the mould, treating its odour & prevention of its re-growth or spread.

Mould is an important natural part of the environment, but we don't want it in our carpets, mould to the smooth edge is removed, disposed of, and new smooth edge fitted.

We then apply an antimicrobial agent, this is normally applied to the concrete pad, followed with a high heat wash & extraction to the affected area.

Finally, the underlay and carpet is re fitted, followed by a final carpet clean to the entire room, leaving your carpets clean, fresh & healthy