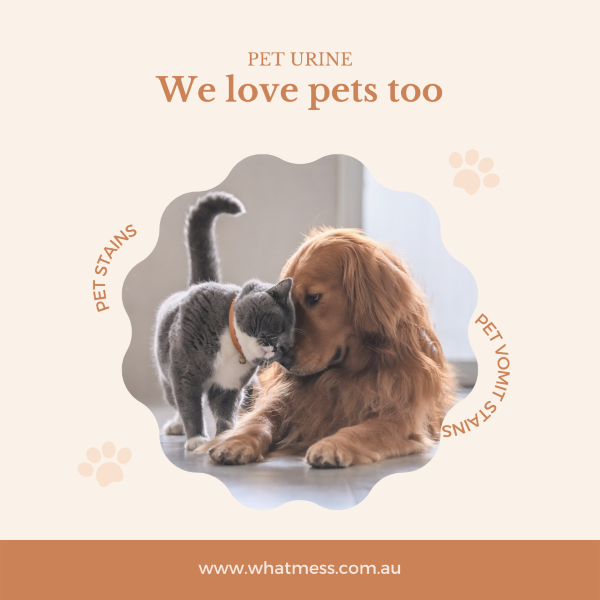 Did the pet do the real damage?
It's happened to us all at some stage, right? You have arrived home from work to be greeted by your pet leaving you a surprise (not a good one) on the carpet.
What do you do?
Franticly attempt to clean it by any means possible. Scrubbing / rubbing away at the carpet driving the stain deeper into the fibres and backing.
Rush down to the supermarket for a off the shelf cleaner? Do you know what your carpet is made from & its PH tolerance levels prior to using this product it? The manufacturer does not know either. Some chemicals can be dangerous to your skin, eyes, lungs & health let along the permanent damage it can do to your carpet. (Damage cannot be cleaned away)
So, you've picked up / soaked up the worst of it. Now for the lingering smell? Spray some air freshener a few times and open a few windows may feel like you have won until the air fresher wears off and the windows are closed. Maybe a strong perfume mist will overpower it? Sadly No, no amount of fragrance will suppress the offending odour. Organic molecules are the cause of the odour and needs to be either consumed by another organic substance or fully rinsed and extracted from the site.
The alcohol in deodorisers & perfume only drive the organic molecules deeper into the carpet, these products were not made this application.
Sadly, most clients contact us as a last option after they have attempted one or more of the above points and either permanently damaged the carpet, spread the stain, over wet the carpet, applied a concoction of YouTube recipes or have ran out of ideas. One call to us can avoid the above and usually have a qualified and experienced technician to your door with in 24 hours or less.
Call What Mess Cleaning Services on 1300 372 355